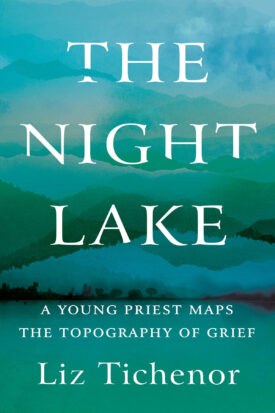 Called "such a sad, tough story, but finally so life-affirming, filled with spirit and love" by Anne Lamott, this is a raw and intensely affecting memoir by a young priest about loss of a child, its grief and its aftermath, and the hard-won joy that can follow.
Liz Tichenor has taken her newborn son, five weeks old, to the doctor, from a cabin on the shores of Lake Tahoe. She is sent home with the baby, who is pronounced "fine" by an Urgent Care physician. Six hours later their baby dies in their bed. Less than a year and a half before, Tichenor's mother has jumped from a building and killed herself after a long struggle with alcoholism. As a very young Episcopal priest, she has to "preach the good news," to find faith where there is no hope, but she realizes these terrible parts of her own life will join her in the pulpit.
The Night Lake is the story of finding a way forward through a tragedy that seems like it might be beyond surviving, and of learning to do so while trying to lead her community. It's the story of parenting a toddler who is delighted with the world and doesn't yet understand death, of standing in vulnerability before a congregation, and of learning to carve out space for the slow labor of learning to live again, in grief.
Praise for The Night Lake
"Heart-wrenching yet gorgeous . . . Tichenor's honest and plush writing lets readers sink into her settings and emotions, whether in grief, hope, or wonder. Perfect for fans of Anne Lamott and any reader interested in the intersection of grief and faith." ––Kathy Sexton, Booklist (starred review) 

"A powerful, forthright chronicle of surviving profound loss." —Kirkus Reviews (Read the full review here.)

"The Night Lake is a memoir written as it was lived—in measured, small steps forward . . . A purposeful and artistic offering of what it means to live in the wake of death . . . The generosity of Tichenor's writing and her faith remind us that her story is our story, too." —Kaethe Schwehn, Christian Century (Read the full review here.)

"Tichenor's courageous memoir is an exquisitely crafted, painfully beautiful chronicle of loss. She articulates the immensity of her feelings and emotions with unbridled candor that, at times, is difficult to read, but ultimately evokes hard-fought rebirth, resurrection and the presence of God. For five years, Tichenor travels a rocky path toward perspective and healing, until the ravaging devastation of loss ultimately fuses into the landscape of her life. Navigating as a bereft wife and mother, a pastor, a friend and a daughter orphaned because of her mother's helplessness, Tichenor discovers that pain, joy and sadness can prove enlightening, buoying her with hope and eloquent moments of grace."
—Kathleen Gerard, Shelf-Awareness (Read the full review here.)

"In stunning, raw prose, Tichenor invites readers into a heartrending but ultimately hopeful story of grief, life and renewal." —Cameron Dezen Hammon, America: The Jesuit Review (Read the full review here.)

"Liz Tichenor's The Night Lake: A Young Priest Maps the Topography of Grief surprised me. I felt surprise at the grace with which Tichenor shares her walk through shadow. I was surprised by how deeply Tichenor's articulation of her experience of faith resonated with my own, and by her brushes with the mystical divine that jolted me and left me feeling uncertain. Some might feel surprise at priests cursing in the face of unimaginable grief. Whatever your experience of grief, and whatever your experience of faith, The Night Lake will manage to surprise you, too. But it's not easy reading … This is not simply a book for those who have found themselves mired in such grief. It teaches all of us how to be with those who are going through tragedy, how to be vulnerable and how to practice compassion." —Anna Spydell, BookPage, Starred Review (Read the full review here.)

"A book as resolute and grounded in the truth of experience as The Night Lake will endure as a beacon for anguish . . . In refusing to be placated or comforted by strained banalities, Liz Tichenor is reaching for a deeper mode of existence and co-existence in which the possibility of real compassion is opened by such brave and unguarded storytelling." —Vanessa Able, The Dewdrop (Read the full review here.)
"Written with extraordinary insight and grace, The Night Lake is a stunning and powerful reminder that tragedy can't be overcome by avoidance; that surrendering to heartache loosens its grip; that true acceptance abides even the deepest pain." —Margaret Wilkerson Sexton, author of The Revisioners

"When Tichenor suffers two tragic and primary losses in her late twenties, she collapses into grief, even as her calling as an Episcopal priest presses her to support others in theirs. With grace, humility, and even humor, she grounds the unfathomable in rituals ornate and ordinary. The result is a raw meditation on fear and courage, loss and love." —Cynthia Li, MD, author of Brave New Medicine
"From an unspeakable loss, Liz Tichenor speaks. With a courage both heartrending and fierce, she traces a terrain of aching grace. The Night Lake is an astonishingly generous gift." —Jan Richardson, author of Sparrow: A Book of Life and Death and Life
"The Night Lake author Liz Tichenor uses spare, honest, muscular prose to tell a rending story of loss . . . In the face of planetary and individual death and grief, I learn again from The Night Lake that there are companions for us in this world, and that the world is suffused with overflowing love. Run—for she is a runner—with Tichenor—through the story of loss and love that is The Night Lake—it is a story for our time, for all of us." —Marc Andrus, Episcopal Bishop of the Diocese of California
For publicity inquiries, please contact Megan Fishmann: [email protected].